I'm Tom Mangan, and Verb Nerd Industries is my one-man enterprise.
I'm a B2B content marketing writer and editor specializing in technology, healthcare, fitness, insurance, and renewable energy. (Check out my approach to content marketing.)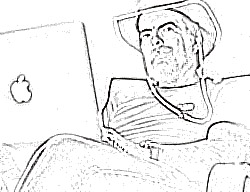 I worked in newspapers including the San Jose Mercury News for a couple of decades up through 2009, when I left the newspaper biz.
Today I'm a full-time content professional. I work mostly on the marketing side of things, but all those years in journalism have made me a fiend for research, accuracy, balance, taste, and just plain old common sense. (Check out my process)
As a freelancer, I've worked for household-name brands like Priceline, Motorola, and Stanford University. I've written about two-way radios, edited webpages for some of the world's brightest engineering students, and sculpted copy for personal trainers and other fitness professionals.
Visit my Writing page for current clients and recent writing samples.
---
Interested in partaking of Verb Nerd goodness? Visit my Contact Page and drop me a note.