Twitter connected me with Lindsey Lohr Cox, a freelance writer and editor who lives nearby. She had a blog hosted on typepad.com but wanted something more polished, hosted under her own domain, that allowed her to focus on her work and not worry about the mechanics of installing a new website.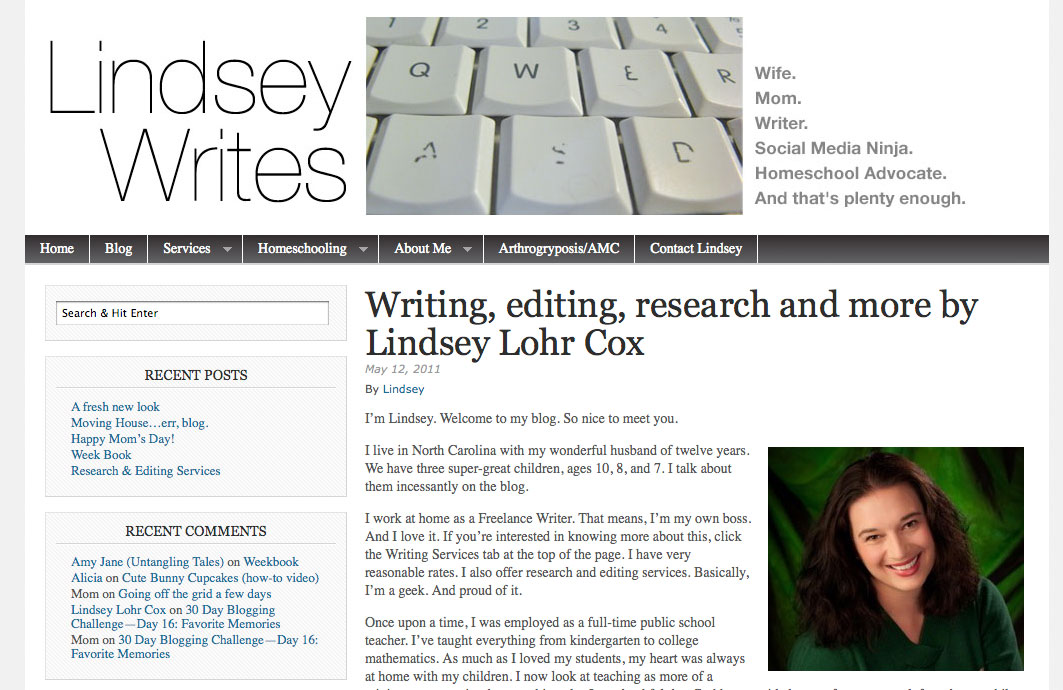 She also wanted a clean, simple design and didn't want to throw much money at it. What I did:
Recommended a Web host: We went with Host Gator, which is inexpensive and has a reputation for reliability.
Chose an effective WordPress theme: Magazine Basic by bavotosan.com — this has immense flexibility on design, layout and composition and can have a sophisticated site up and running very quickly.
Designed the header: I shot a close-up of a heavily used laptop keys to convey the image of a hard-working writer and used Helvetica Neue UltraLight for a clean, elegant look on the key typography.
Imported Lindsey's old site: Installed a WordPress plugin that automated the import of text from of her old blog.
Created custom menus: These are based on the categories from her site. These navigational aides are essential to making a site more sticky: getting people to stay once they arrive.
Optimized for SEO: Magazine Basic has built-in SEO tools: I added a site description and essential keywords.
Lindsey's response:
I love, love, love my new look. Thank you for your hard work & expertise. I'm 100% satisfied!
Thanks, Lindsey, for being such a great client.
Like what you see? Drop me a line and we'll talk.